Stanbic Bank in partnership with the Ministry of Health on Friday launched the Corporate Society for Safe Motherhood (CSSM), an initiative to improve maternal health services across Uganda.
The CSSM is aimed at mobilizing resources and bringing together corporate organizations to support the reduction of maternal and infant mortality in Uganda.
During the launch of the partnership, Stanbic Bank Chief Executive Anne Juuko explained that as a responsible corporate citizen the Bank recognizes the importance of maternal healthcare and is committed to supporting Ministry of Health in their efforts to ensure safe motherhood to reduce maternal mortality rates in Uganda.
People are still losing their lives needlessly while doing a noble role of giving life.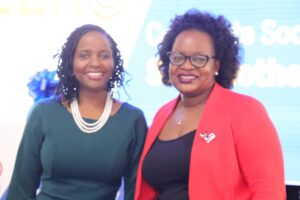 Juuko stated that while the numbers are improving because of the initiatives that the Bank has taken together with Ministry of Health, there is still needed to do more.
"The death of a woman during pregnancy and childbirth is not only a personal tragedy, but one that involves the community and the nation as a whole. Our collective duty is to support the improvement of services and scale up interventions, particularly for the vulnerable, hard to reach and marginalized," Juuko stated.
Juuko expressed gratitude to the different companies that have signed up and committed to supporting the objectives of CSSM. These include Bank of Uganda, Unilever Uganda, Movit Products Uganda Ltd, Uganda Breweries Limited, TotalEnergies Uganda and Super Loaf Uganda Ltd.
Speaking at the launch event, Ministry of Health Permanent Secretary, Dr. Diana Atwine, said her ministry was glad to be associated with Stanbic, who she said are true transformers with passion for their country.
"The number of mothers attending to health facilities or those delivering in health facilities has risen to 75%, and we know that Stanbic has had a contribution to this rise in numbers, thanks to some of your initiatives like the Mama Kit donation drives that have helped hundreds of women to undergo safe labour."
For the last couple of years, Stanbic Bank has run the 'Every Mother Counts' campaign in partnership with other corporate bodies and institutions, in which essential consumables like Mama Kits are periodically supplied to Kawempe Referral Hospital in Kampala.
Also present at the launch of the partnership was Mercy Kainobwisho, the Registrar General of the Uganda Registration Services Bureau, who shared her commitment to ensuring safe motherhood in the country.
Kainobwisho commended the Ministry of Health and Stanbic Bank for launching the Corporate Society of Safe Motherhood Initiative adding that it would go a long way in supporting Government's efforts to improve the Health Sector in Uganda.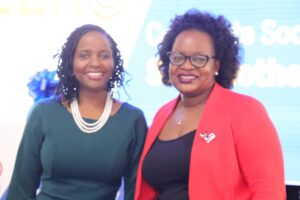 She also said URSB had donated an assortment of equipment to Kawempe Regional Referral Hospital, which included an Ultrasound portable scanner, and digital weighing scales among others. "As URSB, we will continue to grow partnerships that support Government's priorities. Maternal and child health are very dear areas to me and I thank the ministry and Stanbic for this initiative".
Ms. Kainobwisho has played a key role as coordinator of Rotary International's maternal & child health program ensuring that the lives of mothers, their health, and their children were a priority.
According to the latest figures from the Uganda Bureau of Statistics, Uganda's maternal mortality rate has reduced from 438 deaths per 100,000 births in 2011 to 368 in 2021.
While this is an improvement, the rate is still high compared to the global average of 152 in 2020. The leading causes of maternal deaths in Uganda include hemorrhage, high blood pressure, unsafe abortions, and infections, all of which are preventable causes.
"When we take care of a mother, we are taking care of our mother nation and everyone else. We commend the Ministry of Health in their efforts to ensure Safe Motherhood and reducing maternal mortality in Uganda,'' Juuko says, adding: "Stanbic Bank will continue to support the Ministry to safeguard the well-being of pregnant women and the newly born as we strive to lower maternal deaths below the targeted UN Sustainable Development Goal 3 of 70 per 100,000 live births by 2030."
The launch of CSSM is an opportunity for private sector entities to coordinate their corporate social investments targeting maternal health service which will then reduce duplication of effort.